The "What is hip-hop culture?" exhibition was held Thursday evening at Schroeder Hall.
The exhibition was organized in collaboration with the Wonsook Kim College of Fine Arts, the Stevenson Center and Breaking Chains Advancing Increase. The event started with 11 minutes of hip-hop and later became an open house.
Ezra Moonan attended the event because his younger brother performed. She talked about how hip-hop has helped her and how it can help others too.
"Organizations like this help young people and dance classes can really help people — it can help them express themselves," Moonan said. "The more people who come to these events, the more they can spread the message to their friends. Maybe some people will donate and help with the classes.
Marty Lane, board member and volunteer coach of Breaking Chains Advancing Increase, also spoke about why hip-hop and dance are important for young people.
"I think it's important for our children to see people supporting their positive behaviors, positive actions, positive thoughts, and positive processes," Lane said. "It shows that all these things they do matter."
Lane said that although coaching was hard work, she remembers being like her students once.
"I was a dancer and still am, so that's the easy part of life," Lane said. "It's fun. It's work, because you get a lot of kids with a lot of energy, but it's a labor of love.
The organization of the exhibition was anything but simple. Frank Beck, member of the sociology faculty and director of the Stevenson Center, spoke about all the collaboration that led to the final product.
"This is a sociology gallery in partnership with the school of arts," Beck said. "I wanted to bring youth art into space for the year."
Beck said that by introducing young people's art, they gave them a chance to find empowerment.
"These are young people who aren't normally heard, their voices are soothed by a lot of other things," Beck said. "This event over 365 days of the year gives them the chance to express themselves.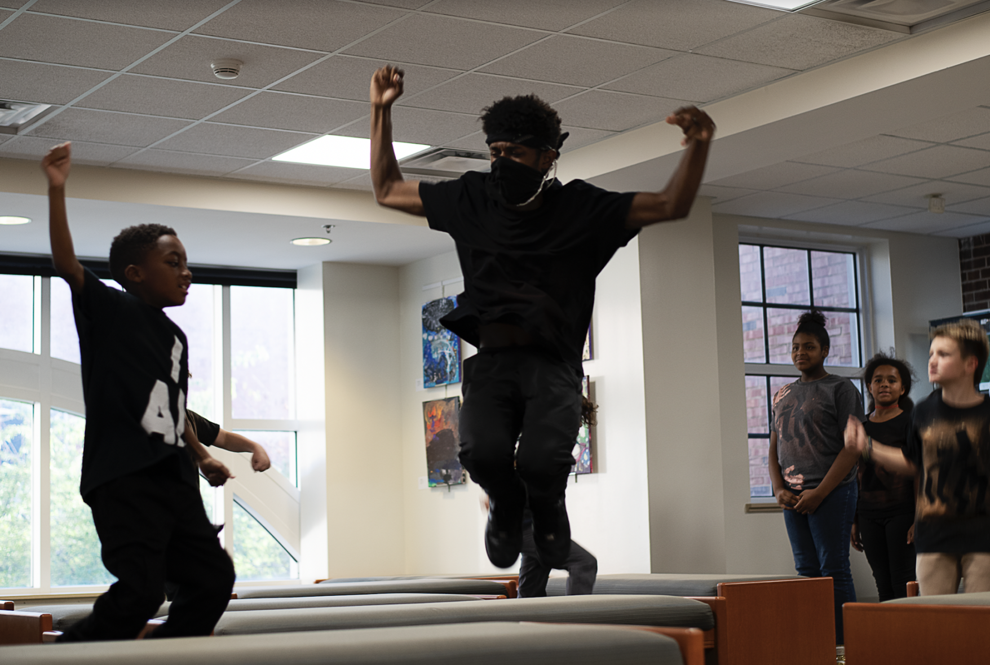 Dr. Joan M. Brehm is Chair of the Department of Sociology and Anthropology. She said the purpose of the exhibit goes beyond showing what hip-hop is just to students.
"We are a public institution and as a public institution we must serve the public," Brehm said. "We need to serve our communities, not just our students on campus. These partnerships with community organizations are at the heart of our identity as an institution, it is part of our mission.
She also talked about another important part of the exhibition: developing participants' knowledge of art.
"I think the exhibit really expands people's view of what art is, who can create art, and how people experience art," Brehm said. "Bringing young people into our community is a way of opening the door and opening people's eyes to experiences from another point of view."
Lane said hip-hop isn't just a dance, it's an art.
"Hip-hop is a culture. Art is part of hip-hop," Lane said. "Dancing is part of hip-hop. The way we dress is part of hip-hop. What we listen to on the radio is part of hip-hop. How we express ourselves and what we think of as art. Everything these children do is their art. And because they're into hip-hop and because we teach them hip-hop, that's how their art is expressed.
KAYLEE SUGIMOTO is a news and feature reporter for The Vidette. Sugimoto contract at [email protected] Follow Sugimoto on Twitter at @kayleesugimoto1
---
IF YOU SUPPORT THE VIDETTE MISSION to provide a training laboratory for student journalists at Illinois State University to acquire and hone viable, valuable, and marketable skills in all phases of digital media, please contribute to this most important cause. Thanks.